In a groundbreaking move, Eco-dynamic Tech, a US-based tech-driven company, has announced the launch of "Artpiece for RV 1000W", the world's first colored, motorized, and rollable solar awning.
This innovative product is set to redefine renewable energy and enhance the RVing experience by providing a sustainable power supply. The official launch event is scheduled to take place at the All in CARAVANING 2023 exhibition on June 17 in Beijing.
The "Artpiece for RV 1000W" is a game-changer for RV users, combining solar power supply and sun shading in one solution.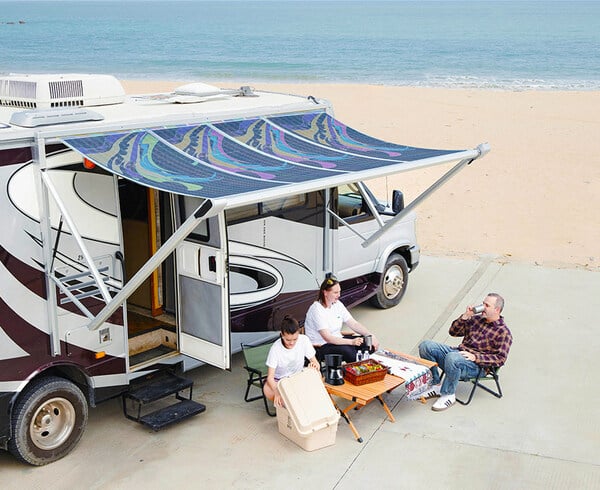 According to a press release, unlike traditional awnings that use fabric material, this revolutionary Solar Awning integrates lightweight 360° rollable flexible HJT solar modules, eliminating the need for fabric replacements.
What sets this product apart is Eco-dynamic's KALAFLEX Technology, which gives the solar cells vibrant colorful patterns that never fade. This allows the "Artpiece for RV 1000W" to blend seamlessly with the chic appearance of RVs and serve as a vital decorative element for high-quality camping lifestyles.
"Solar product should not just be a practical equipment, it can also be a shining piece of art. With our expertise in the solar industry for over 20 years, we're dedicated to integrating aesthetic creativity into the design of sustainable solar solutions for outdoors and households, enhancing the experience of customers to the next level," Michael Soon, VP of Business Development of Eco-dynamic Tech, said.
"Artpiece is our first product line and now also the one and only solar solution with colorful patterns worldwide."
Designed to meet off-grid power needs, the "Artpiece for RV 1000W" can generate about 1000W power output, depending on sunlight quality. It is robust for challenging outdoor environments and equipped with an electric motor that allows users to extend it in seconds using a remote control. Integrated LED lights also provide illumination for overnight RVing.
Eco-dynamic Tech is currently offering a 25% early bird discount for pre-orders placed on its official website (www.econamictech.com) along with gifts.
This initiative is a testament to the company's commitment to making renewable energy easily accessible, sustainable, and enjoyable for every household.
The launch of the "Artpiece for RV 1000W" is a significant step towards harnessing the power of the sun and redefining renewable energy. It not only provides a practical solution for RV users but also adds an aesthetic element to the camping experience.
This innovative product is expected to set a new standard in the industry and pave the way for future developments in sustainable outdoor solutions.
The "Artpiece for RV 1000W" by Eco-dynamic Tech is a groundbreaking product that combines functionality and aesthetics. It is set to revolutionize the RVing experience by providing a sustainable power supply and enhancing the outdoor ambiance.
With its official launch event just around the corner, the "Artpiece for RV 1000W" is poised to make a significant impact on the renewable energy landscape.
For more information about the "Artpiece for RV 1000W," watch this video here.