Rock Springs/Green River KOA Journey, located in Rock Springs, Wyoming, is a haven for campers seeking a unique outdoor experience. Nestled in the heart of Wyoming's picturesque landscape, this campground offers a blend of natural beauty, history, and modern amenities that make it a must-visit destination for camping enthusiasts.
This KOA Journey is more than just a campground. It's a gateway to the rich history of the western frontier. The nearby city of Green River served as a vital crossroads in the development of the western frontier, with the Overland Stage Line and the Pony Express making stops here.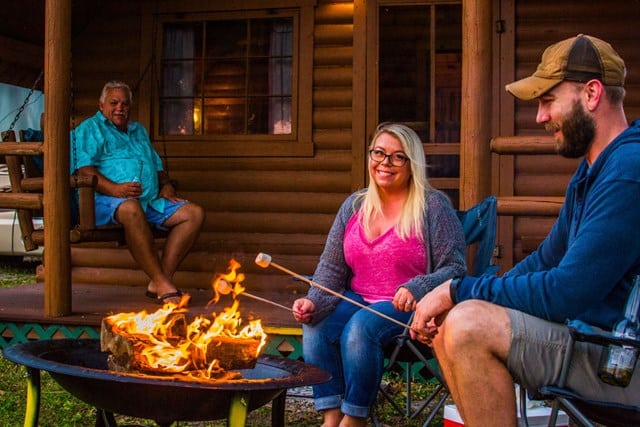 Several major emigrant trails, including the Oregon, California, Mormon, and Cherokee trails, passed nearby. The arrival of the transcontinental railroad in 1868 firmly established RockRpings/Green River as a major western destination.
Today, visitors can explore Expedition Island National Historic Site, where John Wesley Powell began his famous explorations of the Green River.
The campground itself is a testament to the KOA commitment to providing quality camping experiences. It offers a wide range of amenities, including a fully stocked general store complete with firewood, propane, and camping essentials.
For those who prefer a more active camping experience, the campground features a basketball court, a playground, and a Kamp K9 off-leash dog park. For those seeking relaxation, the campground offers privacy fences for a more secluded camping experience.
The local area around the Rock Springs/Green River KOA Journey offers a plethora of recreational activities. The Flaming Gorge Reservoir is renowned for its powerboating, waterskiing, camping, parasailing, rafting, swimming, and fishing opportunities.
The reservoir is famous for its trophy trout fishing, with catches up to 40 pounds. Below the lake, the Green River is renowned for trout fishing and rafting. The recreation area also offers many campgrounds and hiking areas.
For those interested in local events, the campground is host to the "Ring of Fire" Solar Eclipse viewing on October 14. This event promises to be a spectacular show in the sky as the sun and moon line up to produce an annular "Ring of Fire" solar eclipse.
The campground is also a gateway to the local area's attractions. The nearby city of Green River offers a fun and relaxing environment for fishing, floating, or swimming. The Killpecker Dune Field features an off-road vehicle area for off-road enthusiasts.
The Family Recreation Center in Rock Springs offers water slides, wading pools, lap pools, and splash zones for family fun.
The Rock Springs/Green River KOA Journey in Wyoming offers a unique blend of natural beauty, history, and modern amenities. Whether you're a history buff, an outdoor enthusiast, or just looking for a relaxing getaway, this campground has something to offer.
With its rich history, diverse recreational opportunities, and quality amenities, this KOA Journey is a destination that truly embodies the spirit of Wyoming.
For more information, visit https://koa.com/campgrounds/rock-springs/.
Featured image from Rock Springs/Green River KOA Journey.