Sarah Riley, CEO of The Glamping Academy, seized the spotlight during a standout session, drawing upon her rich two-decade experience in experiential hospitality to illuminate global travel trends in the glamping industry.
Riley emphasized the emergence of a new era in dynamic travel, highlighting the increasing popularity of glamping across the globe. She underscored the allure of the industry, which not only allows entrepreneurs to run their own businesses but also to create experiences that genuinely delight people.
Identifying millennials as a pivotal demographic, Riley pointed out that they are currently the main spending power behind the industry, seeking experiences over material possessions. However, the global health crisis, economic issues, and climate concerns have all impacted the industry, shaping new demands and expectations from travelers.
Riley highlighted the importance of community and wellness, noting a significant growth in the U.S. market, and emphasized the eco-sensitive nature of the industry, which aligns with the increasing demand for eco-friendly travel options.
Artificial Intelligence: A Game-Changer in Glamping
With Artificial Intelligence (AI) taking a toll, Riley introduced the concept as a transformative force in the industry. She elucidated how AI, often perceived as a villain, can be harnessed positively to enhance productivity, create jobs, and even assist in dynamic pricing and attracting sponsorship.
"People think artificial intelligence (AI) is the villain. But I'm going to tell you a few things about how it's going to really impact," she said. "This will give you the ability to get stuff done really quickly."
"You can use AI to become more productive. Less experienced people will have a bigger productivity shift," Riley elaborated. "So it'll be really good in that sense. And according to the World Economic Forum, AI will create 97 million jobs. So it isn't quite the evil thing that we think it is."
She underscored that while AI is revolutionizing various aspects of business operations and customer interactions, it is crucial for glamping businesses to stay abreast of these technological advancements to remain competitive.
Highlighting several innovative glamping experiences worldwide, like Cleo Viva in Mexico and Celia Glamping in Canada, Riley emphasized the importance of being a trailblazer in the industry. She encouraged businesses to think outside the box and avoid a cookie-cutter approach, especially as the market becomes more competitive.
"These are people who are not afraid to push what they're offering outside of the cookie-cutter," she said. "Cookie cutter won't work as your industry gets more competitive. But you don't have to have all of your offerings unique and amazing."
The Future of Glamping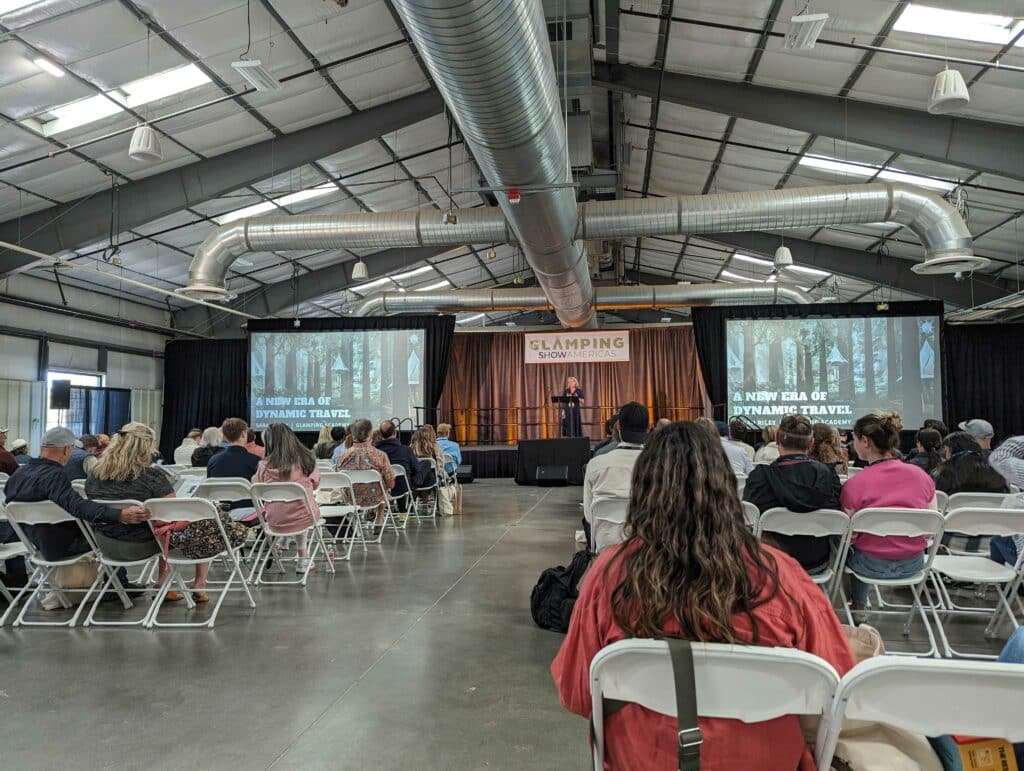 Riley concluded her session by emphasizing the importance of authenticity and intentional inconveniences in glamping, which remind guests that they are engaging with nature and not merely indulging in luxury. She encouraged businesses to consider their unique offerings, ensuring they stand out in a crowded market, and to be mindful of the evolving needs and desires of travelers.
In a world where travel trends are constantly evolving, Sarah Riley's insights at the Glamping Show Americas 2023 provided a thought-provoking look at the future of glamping, intertwining the essence of nature, the importance of authentic experiences, and the undeniable impact of technology in shaping the future of experiential travel.