BEYONDER Camp, a renowned provider of campground and outdoor hospitality, is gearing up for an unforgettable Memorial Day weekend as they unveil their charming and friendly mascot, Boomer the Raccoon.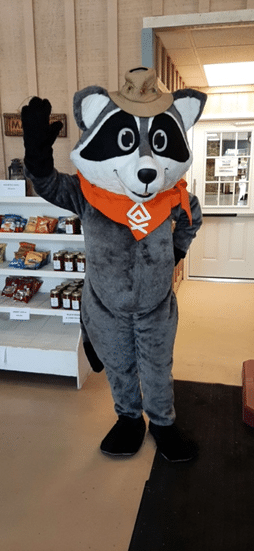 As per a release, the much-anticipated arrival of Boomer promises to infuse the campgrounds with an extra dose of magic and excitement, creating treasured memories and instilling a sense of wonder in campers of all ages.
Boomer, the embodiment of spirited playfulness and mischievousness, is all set to captivate children and families as he makes his grand debut this holiday weekend.
With his warm and engaging presence, this lovable raccoon is destined to elevate the BEYONDER Camp experience, ensuring that young campers embark on extraordinary adventures filled with boundless joy and infectious laughter.
"We are absolutely thrilled to introduce Boomer the Raccoon as our official mascot during this Memorial Day weekend," says Justin Hoggatt, co-founder, at BEYONDER Camp.
"Boomer embodies the spirit of happiness, imagination, and enjoyment that defines BEYONDER Camp. We believe his presence will add an extra touch of enchantment to our campgrounds, enabling children to create lifelong friendships and everlasting memories. We look forward to all the amazing pictures that our guests will share."
Boomer's involvement in a diverse array of activities is sure to keep campers entertained and enthralled throughout their stay. From delightful nature walks that unveil the wonders of the great outdoors, to engaging arts and crafts sessions that unleash creativity, and captivating campfire stories that ignite the imagination, Boomer will be right in the midst of the action.
Whether assisting in treasure hunts, leading joyous sing-alongs, or simply spreading cheer throughout the campgrounds, Boomer's spirited presence will ensure that each child's experience at BEYONDER Camp is elevated to a new level of magic and wonder.
The buzz surrounding Boomer's impending debut has already ignited a wave of excitement among campers and staff alike.
Notably, Boomer's name was chosen through an engaging survey involving the valued guests and campers.
Children eagerly anticipate the opportunity to meet their new furry friend, forging unforgettable memories together in the midst of nature's embrace. BEYONDER Camp remains steadfast in its commitment to providing exceptional experiences that nurture children's imagination, growth, and happiness. With Boomer by their side, campers are poised to embark on an extraordinary summer adventure filled with countless cherished moments.
For more information about BEYONDER Camp, visit www.beyondercamp.com.
Featured image from BEYONDER Getaway Rising Sun.