Nestled on the edge of the Peak District National Park, Hoe Grange Holidays in England offers a unique getaway for those looking to immerse themselves in the beauty of the English countryside. Catering to a diverse range of visitors, from families to couples to dog or horse owners, this self-catering holiday provider promises an experience that combines the rustic charm of nature with modern comforts.
According to its website, Hoe Grange Holidays boasts a variety of self-catering log cabins, a gypsy caravan, and glamping pods, each designed to provide guests with a cozy and comfortable stay. These accommodations are not only equipped with modern amenities but also offer breathtaking views of the surrounding landscape, ensuring that guests are always in close touch with nature.
A Diverse Range of Log Cabins
Each accommodation, be it the Rainster with its blend of tradition and modernity, the open-plan Daisybank tailored for small groups, the family-friendly Hipley, or the spacious Pinder designed for larger groups, has been crafted with meticulous attention to detail.
These cabins are not just places to stay; they are sanctuaries where guests can truly connect with nature while enjoying the luxuries they are accustomed to.
From the design and layout to the amenities offered, every aspect of these accommodations reflects Hoe Grange Holidays' commitment to ensuring that their guests have a memorable stay.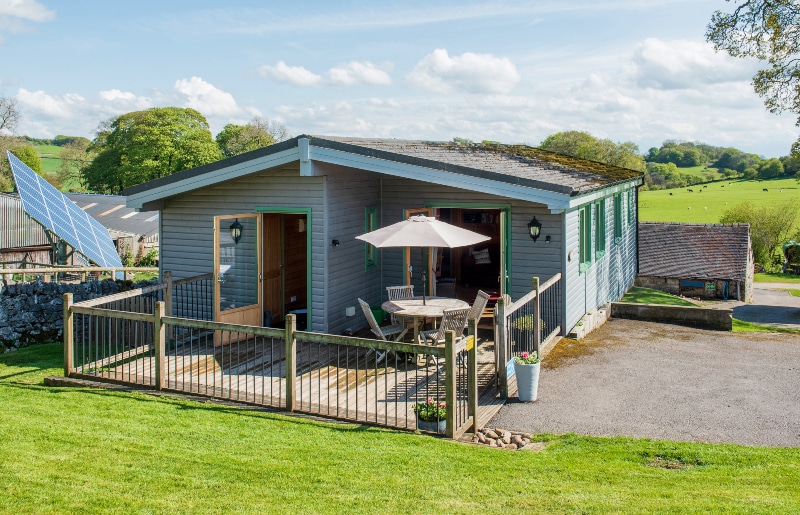 Rainster, much like its counterparts, offers a unique blend of traditional charm and modern amenities. Designed to accommodate both families and couples, this cabin provides a cozy retreat with two bedrooms. The cabin's design emphasizes accessibility, ensuring that everyone, including those with mobility challenges, can enjoy their stay.
Large windows frame the picturesque views of the Peak District, allowing guests to immerse themselves in nature even from indoors. The cabin's spacious layout, combined with its warm interiors, makes Rainster a favorite among many who visit Hoe Grange Holidays.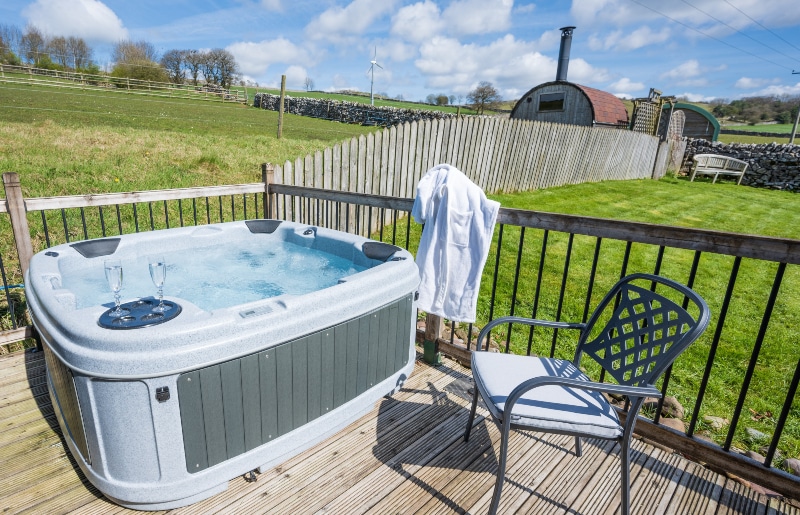 As guests step into Daisybank, they are welcomed by an open-plan kitchen, dining, and living area that boasts stunning views of the ever-changing Peak District landscape. The double doors lead to a decking area, perfect for a BBQ or simply enjoying the outdoors.
The cabin's two generously sized bedrooms make it ideal for smaller families or groups of friends. Beds are versatile with the option to be set up as super king doubles or singles, catering to guests' preferences. After a day of exploration, the luxurious whirlpool bath offers a relaxing escape, while the accessible wet room ensures convenience for all.
With its two bedrooms, Hipley is tailored for families looking for a comfortable and memorable stay. The cabin's design ensures that guests have ample space to relax and bond.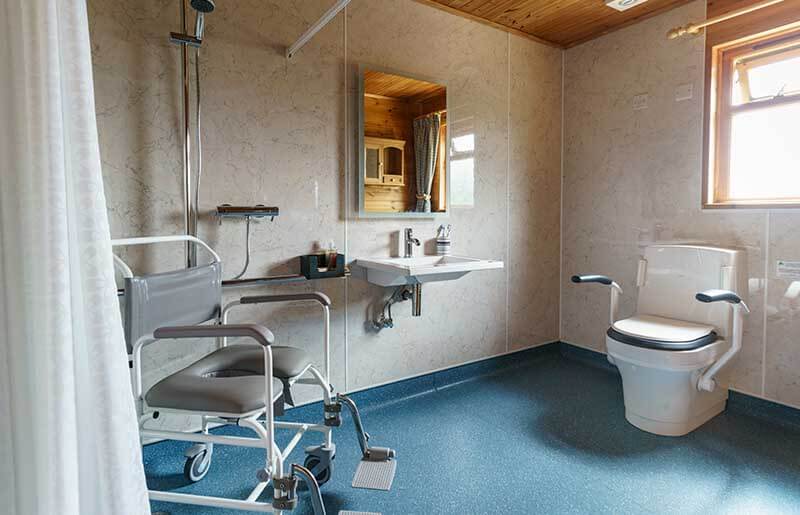 One of the standout features of Hipley is its wet room, designed to be accessible for all, including those with mobility challenges. The cabin also boasts a private patio with an outdoor dining area allowing families to unwind and soak in the beauty of the surrounding landscapes. The interiors, with their warm tones and cozy furnishings, ensure that guests feel at home from the moment they step in.
Pinder stands as a testament to spacious luxury amidst the serene landscapes of Hoe Grange Holidays. This three-bedroom log cabin is designed to comfortably house up to six guests, making it an ideal choice for larger families or groups of friends.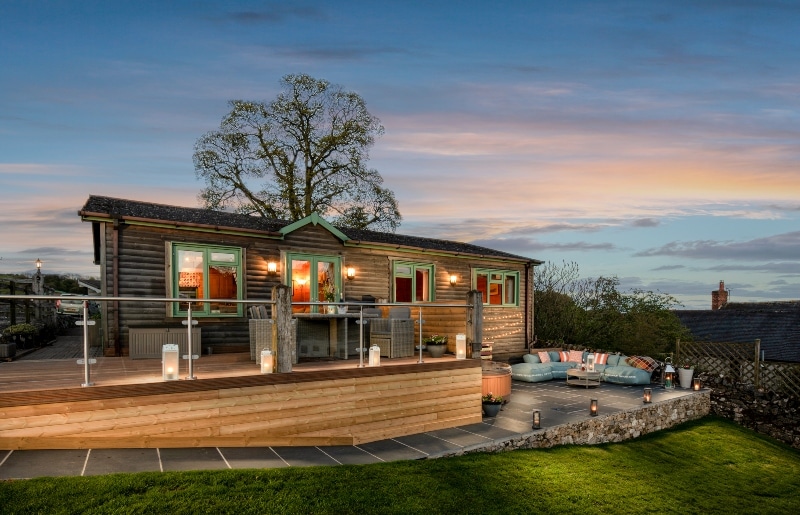 The cabin's interiors exude a sense of warmth and comfort, with an open-plan kitchen and lounge area that's bathed in natural light. French doors open up to a decking area, where guests can relax in the hot tub, all while soaking in panoramic views of the farm fields.
The sleeping quarters in Pinder are meticulously designed for comfort. The master bedroom is not just a place to rest but an experience in itself, boasting an ensuite shower.
For those looking for a touch of indulgence, the cabin also offers a luxurious whirlpool bath, perfect for a relaxing soak. As night falls, the minimal light pollution in the area allows guests to gaze upon a sky filled with stars, adding a touch of magic to the Pinder experience.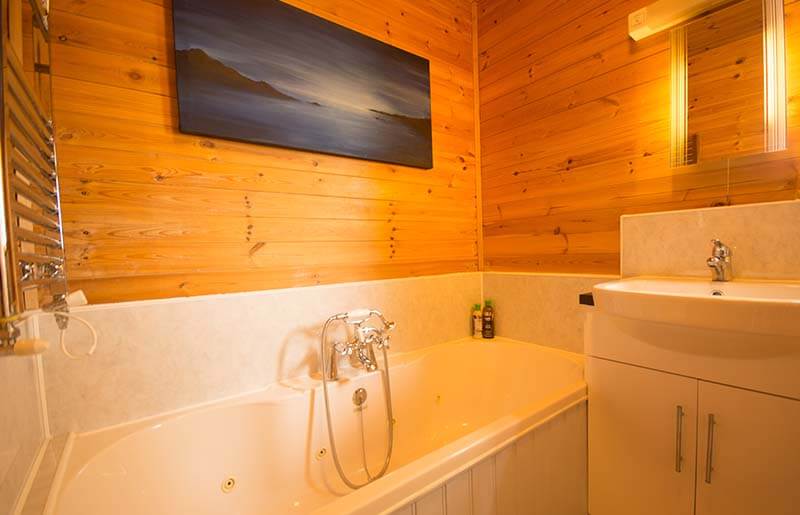 Beyond its luxurious amenities, Pinder also emphasizes accessibility and sustainability. The cabin is equipped with ground-source central heating, ensuring a warm ambiance throughout the year. Moreover, the pet-friendly nature of Pinder ensures that guests can bring along their furry companions to share in the experience.
A Nostalgic Journey with the Rose Hip Gypsy Caravan
For those yearning for a touch of nostalgia, the Rose Hip Gypsy Caravan offers a trip down memory lane. This traditional bow-top caravan, estimated to be around a century old, has been meticulously restored to its former glory.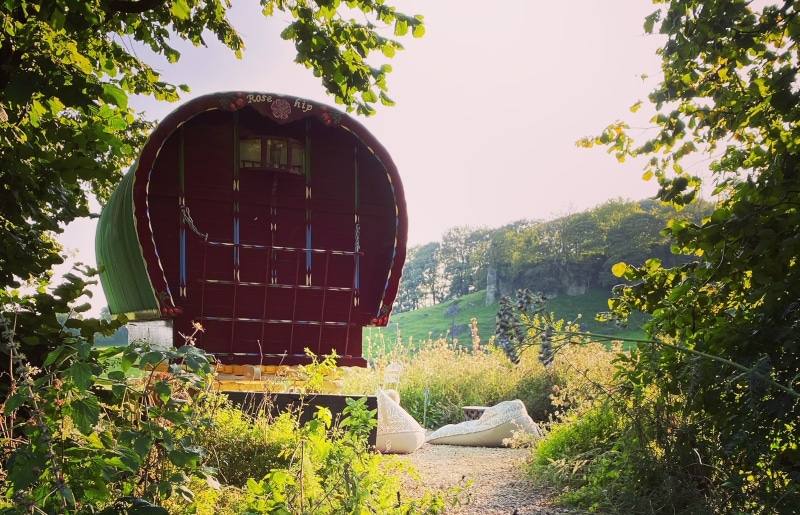 While its exterior boasts a deep burgundy hue set against a vibrant green canvas roof, the interiors tell a different story. Adorned with fabrics featuring delicate rose patterns, the caravan offers modern amenities, ensuring guests don't miss out on contemporary comforts.
Set in a secluded area of the farmyard, guests can wake up to panoramic views of the Peak District's rolling hills.
Glamping Pods
Glamping at Hoe Grange offers the perfect balance. Situated in the heart of the Peak District, between Ashbourne and Bakewell, the farm introduces its guests to the wonders of "glamorous camping" through its Skylark and Swallow eco-glamping pods. These chic mini log cabins are designed exclusively for two adults, making them an ideal romantic hideaway.
Upon entering these pods, guests are met with a blend of rustic charm and contemporary design. Each pod is equipped with a kitchenette and bathroom facilities, ensuring that visitors have all the conveniences of home while being enveloped by nature. The cabins are a cozy retreat from the world. The infra-red heating and double glazing ensure that guests remain warm and comfortable, even when the British weather decides to be unpredictable.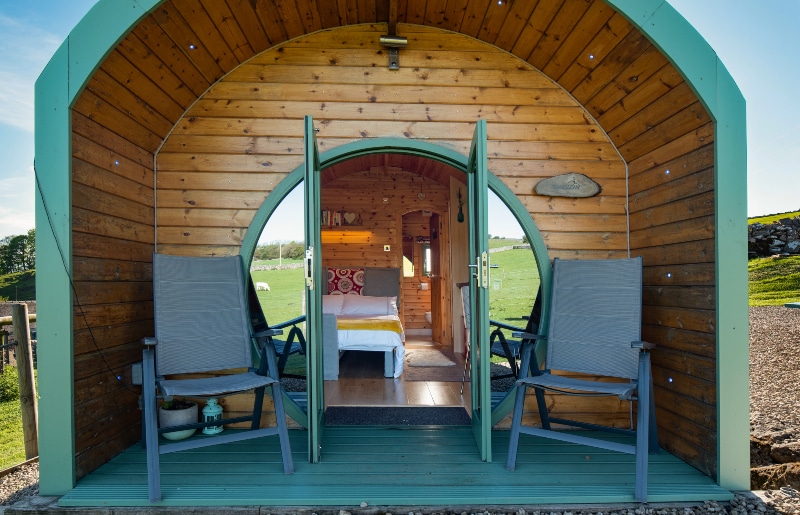 One of the standout features of these glamping pods is the king-size sofa bed, which promises a restful night's sleep. Waking up in these cabins is a unique experience; the sounds of farm animals serve as a gentle alarm, reminding guests of the beauty of rural life.
Outside, the pods offer stunning views over the farm fields, allowing visitors to truly connect with the landscape. The outdoor deck chairs and picnic table provide the perfect spot for a morning coffee or an evening drink, while the firepit and BBQ add a touch of adventure to the experience.
For those who wish to bring their furry friends along, the Swallow glamping pod welcomes dogs. A special doggy welcome pack ensures that even the four-legged members of the family feel at home.
In addition to the top-notch facilities, the glamping experience at Hoe Grange is enhanced by the little luxuries that are offered. From a welcome pack that includes home-baked biscuits, bread, and eggs to the availability of adult bikes for exploring the countryside, every detail is thought of.
Exploring the Local Area
The location couldn't be more ideal for glampers looking to explore the Peak District. The holiday provider's website highlights a plethora of outdoor activities that guests can partake in.
From walking and cycle touring to more adventurous pursuits like climbing and caving, there's something for everyone.
The Peak District is renowned for its climbing areas, with challenges available on both gritstone and limestone crags. Beginners can start at Harborough Rocks, just a short distance away, while more experienced climbers might venture to Froggatt Edge or Stanage Edge.
But it's not just about the adrenaline rush. For those looking to unwind and relax, Hoe Grange Holidays offers a unique hot tub and sauna experience. On their website, guests are encouraged to "be kind to yourself, take time out to relax in the peace and quiet, breathe in the fresh country air and restore your soul."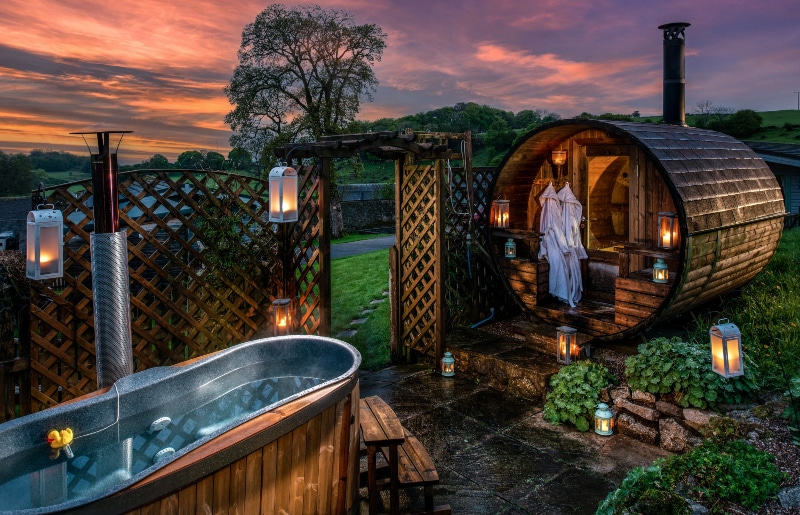 The traditional Swedish hot tub, surrounded by soft candle lighting, promises a deep relaxation experience. The log-fired sauna, on the other hand, offers a detoxifying session, leaving guests glowing and rejuvenated.
Moreover, the emphasis on sustainability and eco-friendliness is evident in their operations. The log cabins and glamping pods are designed to have minimal environmental impact, and the use of renewable energy sources further underscores their commitment to preserving the natural beauty of the Peak District.
Guest reviews on their website paint a picture of satisfaction and memorable experiences. One guest mentioned, "what a lovely weekend away! We stayed in the lovely gypsy caravan, which was a wonderful and really unique experience. We took along our two horses, who also had a fantastic time – so much so, they were reluctant to load into the trailer to come home. I think they wanted to stay!"
Another guest highlighted, "this was amazing, it was our first visit but certainly not our last. Gold standard disability facilities for my husband who has Multiple Sclerosis."
To learn more about the park, visit hoegrangeholidays.co.uk.
Featured image from Hoe Grange Holidays.