In a blend of natural beauty and modern amenities, Erw Glas Glamping and Camping emerges as a standout destination for camping and glamping enthusiasts in Conwy (United Kingdom). Offering fully furnished tents set against the backdrop of breathtaking mountain vistas, the site provides a luxurious yet authentic outdoor experience.
According to Erw Glas Glamping and Camping's official website, the site boasts two opulent glamping tents, each tucked away in a secluded area. These tents serve as sanctuaries for those yearning for a tranquil retreat, complete with shared kitchen and barbecue amenities to satisfy any culinary craving.
The tents aren't just about rustic charm; they're also equipped with electric hook-ups and hardstanding pitches. This fusion of nature and technology ensures that guests can relish the wilderness without forgoing contemporary comforts. Plus, a fully-stocked kitchen makes meal preparation a breeze.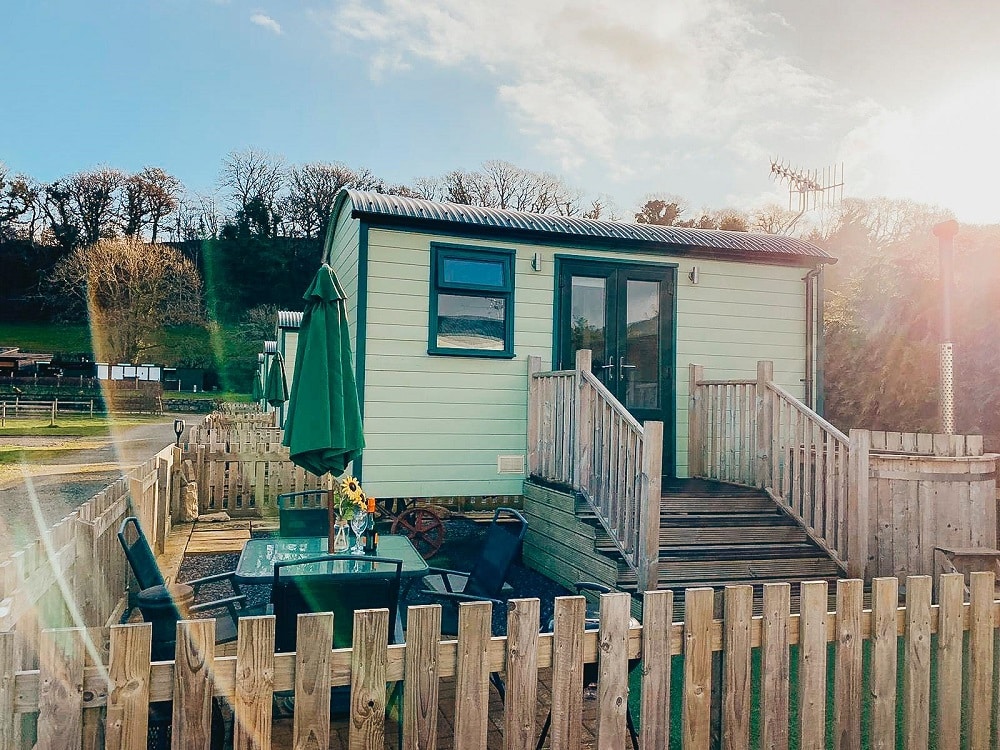 But tents are just the beginning. Erw Glas also offers five custom-designed Shepherd Huts, each featuring its own hot tub. These huts elevate the glamping experience with memory foam mattresses, cozy seating areas, and kitchenettes outfitted with Bosch Tassimo coffee machines. Each hut even has its own private outdoor space, complete with a barbecue, chiminea, and wood-burning hot tub.
For traditional campers who prefer the classic camping experience, Erw Glas doesn't disappoint. The site's expansive camping field is a green oasis set against a backdrop of awe-inspiring mountain vistas. Amenities like electric hook-ups, hardstanding pitches, and family-friendly shower rooms make camping here far from ordinary.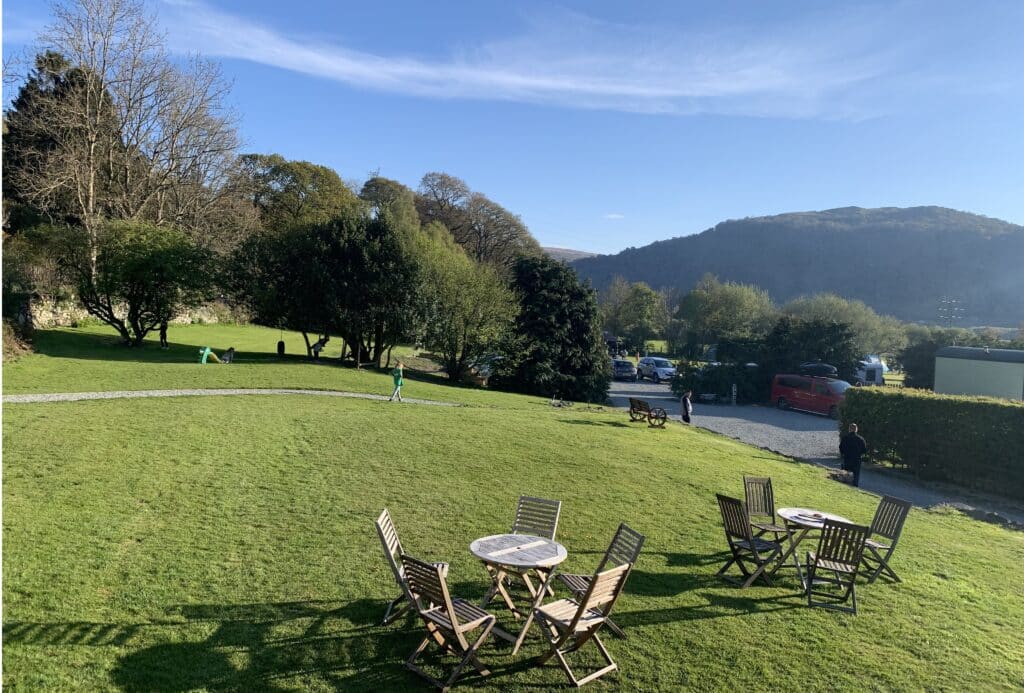 For those seeking a more permanent structure, Erw Glas offers a semi-detached two-bedroom cottage. This newly refurbished space features an open-plan living area, a contemporary bathroom, and a private patio boasting a five-person hot tub and gas barbecue.
Run by a family, for families, Erw Glas provides ample space for children to roam and play. The site also accommodates pets, asking only that dogs be leashed due to free-roaming chickens.
An on-site shop caters to all basic needs, from snacks and sweets to essential camping gear. Guests can also rent barbecues, deck chairs, tables, and towels.
To maintain a serene atmosphere, Erw Glas enforces a quiet-after-10pm policy. Fire pits are permitted if elevated off the ground, and firewood and BBQ coal are available for purchase.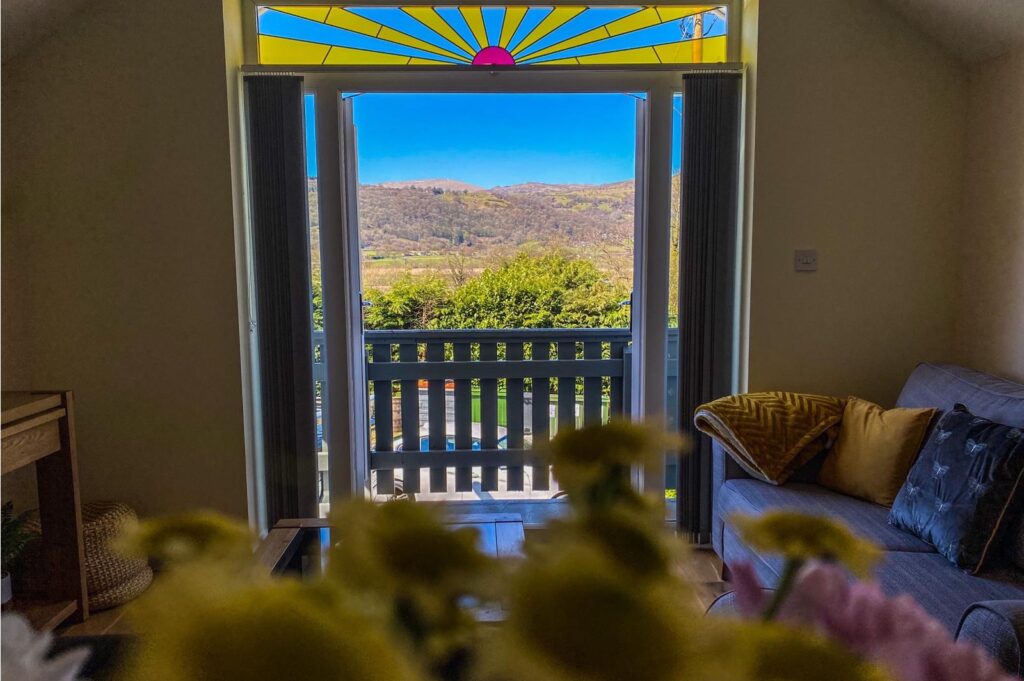 Nearby Attractions
But it's not just the glamping experience that makes Erw Glas a must-visit. The site is also strategically located near some of Conwy's most beautiful attractions. According to the information on their "Near Us" page, the camping site is in proximity to National Trust properties, overlooking the Conwy Valley towards the Carneddau mountains.
One such attraction is Bodnant Garden, a National Trust property that spans some 80 acres. Known as one of the most beautiful gardens in the UK, it offers stunning views across the valley towards the Snowdonia range. This makes it a perfect day trip for nature enthusiasts staying at Erw Glas.
For those interested in exploring coastal towns, Llandudno is not far away. Known for its North Shore Beach and 19th-century Llandudno Pier, the town offers a variety of shops and a games arcade. The cliffs of Great Orme headland provide another natural attraction, jutting into the sea and offering ancient tunnels leading to a cavern at Great Orme Mines.
If you're more of a mountain person, the Snowdonia range offers a magical setting with a distinctly Alpine feel. Surrounded by the dense Gwydyr Forest and the beautiful waterfall Swallow falls, Snowdonia offers a range of activities from hiking to mountain biking.
Whether you enjoy walking along trails, biking on mountain paths, or exploring historical sites, there's something for everyone in the area surrounding Erw Glas. The diverse range of activities makes it an ideal location for both adventure seekers and those looking to relax in a natural setting.
To learn more, visit erwglasglampingandcamping.co.uk/.
Featured image from Erw Glas Glamping and Camping.