Australian caravan customers can now avail a fully-electric caravan. There are several premium brands like Retreat ERV, Mountain Trail, Spinifex and Zone equipped with the latest gas-free systems that can provide "unlimited" energy for camping off the grid.
The new Australian-Chinese caravan manufacturer Harvok RV is aiming to bring the latest all-electric caravans to everyone by offering a range of couples and family fully-sized off-road caravans equipped with hybrid 48V power systems that are now available in Australia for less than AU$100,000.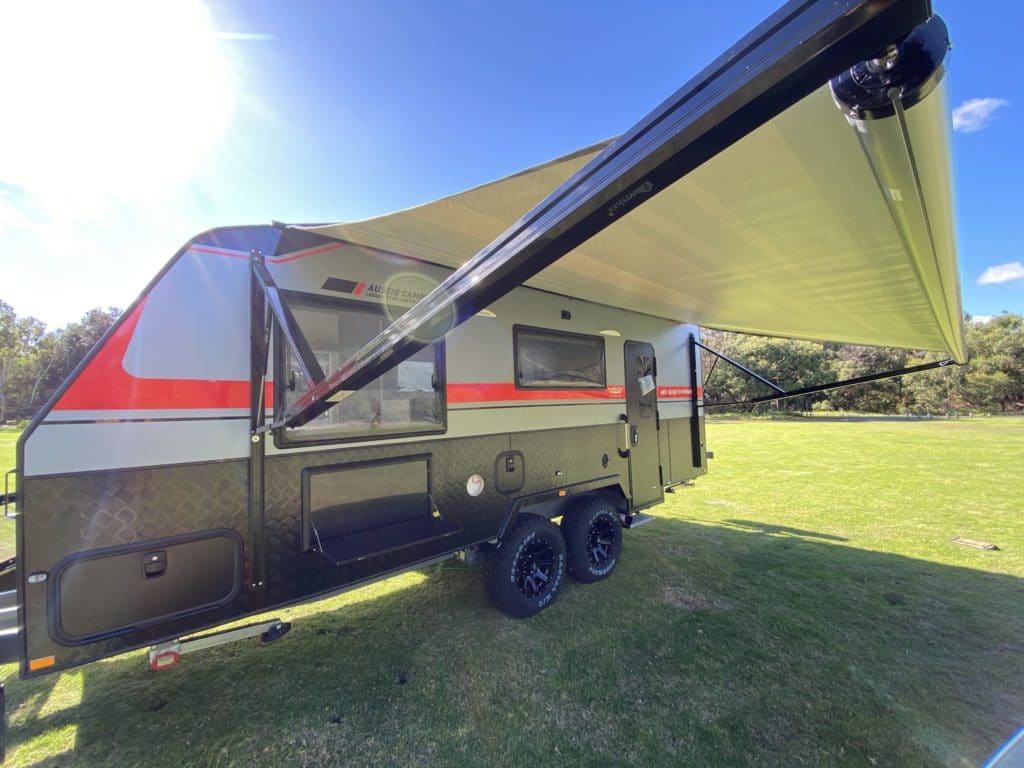 Harvok is an Australian-owned and operated, China-based RV manufacturer, led by Melbourne-based caravan designer Ben Liu who previously worked for a variety of Victorian RV companies, such as Elite Caravans, AussieRV, and Purple Line. He was part of the team that developed the first inflatable camper on the planet.
According to an Australian web site, Harvok aims to be one of China's top RV makers, with the capability to construct around 2,000 campervans and caravans as well as other towable RVs each year at its brand-new, state-of-the art manufacturing facility of 20,000 square meters situated in China's Hubei Province.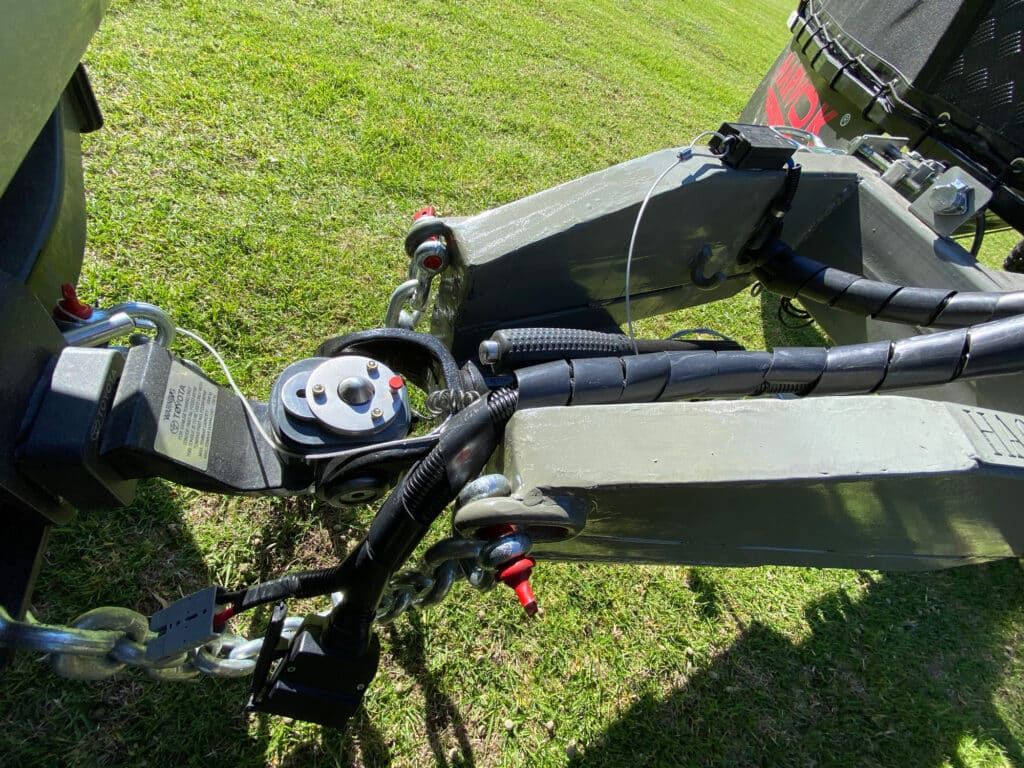 Presently, there are two 19-ft. and 6-in Harvok 1960 Powerbank tandem axle caravans in stock in the Australian market. Both are fitted with 14.4kWh 48V lithium battery systems that include an inverter that is standard at 3,000W as well as at least 1,000W marine grade flexible solar panels mounted on the roof.
Harvok's exclusive intelligent power management system provides enough energy to power a variety of installed appliances for longer periods such as an induction cooktop, big compressor refrigerator/freezer, washer, and rooftop air conditioner.
The gas-free vans come equipped with a 1,200W DC-DC charger that Harvok claims allows "lightning charging" up to 1.2kWh when towing the van.
The two Harvok caravans are built to handle the harsh Aussie conditions, with an independent coil suspension for trailing arms with a DO 35 coupling, 12-in electric brakes with stone guards, mesh, and 16-in alloy wheels fitted with Mud Terrain Tyres, as well as gal-protection for the two freshwater 120-liter tanks and a 75-liter grey tank.
The 150x50mm steel frame protected with the "automotive grade chassis anti-corrosion coating" and body construction includes a TIG-welded frame that includes aluminum composite cladding as well as fire-retardant Polystyrene insulation, 25-mm thick honeycomb floor, and an aluminum frame one-piece roof made of fiberglass.
Two different designs are advertised for sale in Victoria, each for AU$94,990 for a drive-away. This includes a van for couples with north-south queen-sized bed as well as kitchen, cafe dinette, and rear ensuite with separate shower and toilet. There is also a family bunk version with east-west parent's bed, dinette/lounge, kitchen, triple bunks, and a separate shower and toilet.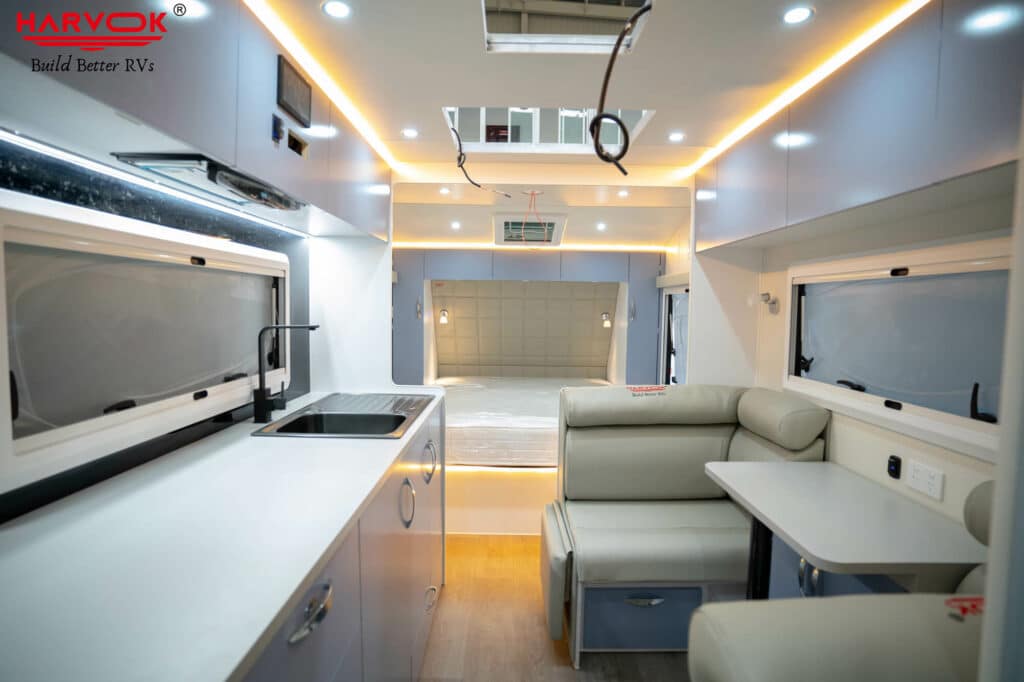 The two vans are equipped with a huge Dometic compressor fridge/freezer, a two-burner induction cooktop, Fusion audio system, a 24-in LED TV, top-loading washing machine, rooftop air conditioner and an outside shower and entertainment unit. The caravans are also equipped with a few things you won't get on Aussie caravans at the same pricepoint like zone-controlled and motion sensor operated LED lighting, a powered awning and entry steps, and a single key locking system.
Both models are advertised with a 2,940-kg Tare, a 3,500-kg ATM, as well as a 240-kg (Tare) ball's weight. Harvok provides a five-year structural warranty and a lifetime power system upgrade.
Although the Harvok 1960 Powerbank vans have similar construction techniques and designs to other Aussie caravans, Harvok is planning to launch a brand-new, game-changing caravan collection that is designed to mimic the automotive-style full monocoque metal construction.
The leak-free body design will have an integrated chassis that resembles a car body. It will be constructed with robotic manufacturing techniques like those employed in the automobile industry. The innovative new range, which includes the hybrid camper as well as full-size caravans, is set to be added to the Harvok lineup in Australia next year.
Harvok RV has an office located in Dandenong South, Victoria which is just a few kilometers from Jayco Australia factory. There are currently five Harvok stores in Australia which includes Masterpiece caravan dealer Escape RVs in Campbellfield, Victoria. Harvok is also planning to establish dealer networks in different countries , including New Zealand and the USA.