Nestled in the serene landscape of Kanchanaburi, Thailand, the Hintok River Camp at Hellfire Pass offers a unique glamping experience. This luxurious campsite is not just a retreat into nature, but a journey back in time, situated near the historical Hellfire Pass, a significant site from World War II.
The proximity to Hellfire Pass provides guests with an opportunity to delve into a poignant chapter of history. The Hellfire Pass Memorial Museum and Walking Trail offer a glimpse into the harrowing experiences of the laborers and prisoners of war who toiled under brutal conditions to construct the Death Railway, according to the camp's website.
Accommodation at Hintok River Camp is a blend of comfort and rustic charm. Guests can choose between Deluxe and Superior tents, each spacious and elegantly designed to embody the safari-like camp essence. The tents, settled on a handmade textile room carpet, offer a luxurious feel amidst the wilderness.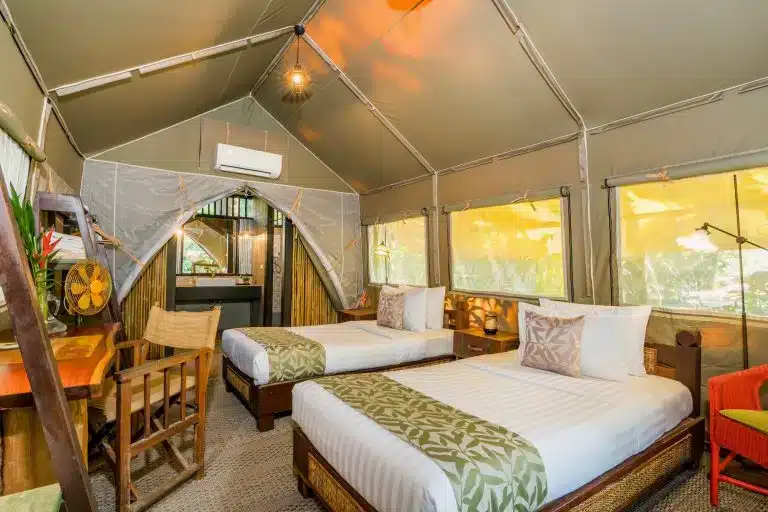 The Superior tents, in particular, are highlighted for their blend of fertile nature and historical ambiance. Equipped with twin/queen-size/triple beds, in-room private bathrooms with hot showers, adjustable air-conditioning, rustic wooden furniture, and free WiFi, these tents ensure a comfortable stay.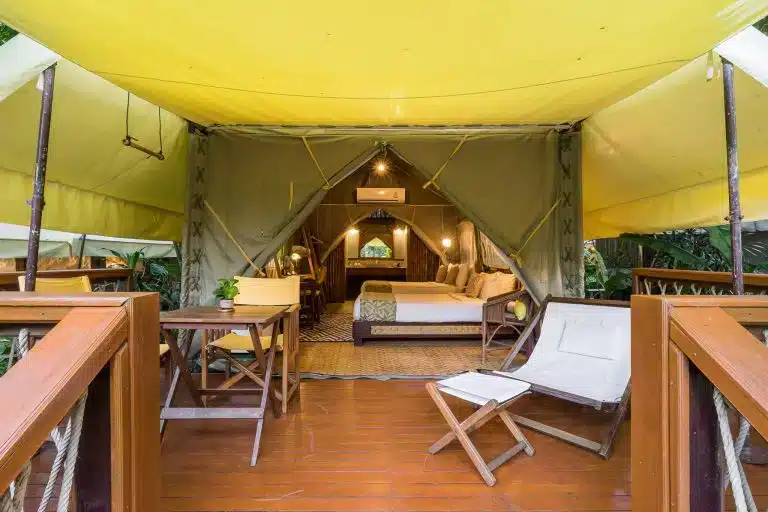 A plethora of facilities await guests at Hintok River Camp. From professional Thai massages to mountain biking around the charming pier, the camp ensures a rejuvenating and adventurous experience. The natural spring pool amidst green surroundings offers a refreshing retreat.
The Hintok Gallery Museum and Souvenir Cottage are other notable facilities. Guests can explore the museum and pick up souvenirs from the cottage, making their stay both educational and memorable. The camp also provides recreational facilities like a campfire setup, a restaurant & bar, and a seminar/meeting space.
Testimonials from previous guests paint a picture of a memorable stay filled with exploration, relaxation, and learning. The emotional journey through Hellfire Pass, coupled with the serene ambiance of the camp, leaves a lasting impression on visitors.
The educational aspect of the visit, especially the walk through Hellfire Pass with an audio guide, provides a deeper understanding of the historical context, making the stay at Hintok River Camp a richly rewarding experience.
For inquiries and reservations, guests can reach out to Hintok River Camp via email at info@hintokrivercamp.com or contact their Bangkok Office at +66 (2) 6425497 or the Hotel at +66 (0) 81 754 3898.
The camp is located at 109 Moo 9 Ban Wang Khamen, Tambon Thasao, Saiyok, Kanchanaburi 71150, Thailand.
Featured image from Hintok River Camp.