The past weekend, campers at Chesapeake Bay KOA Resort (Virginia) saw aye-to-aye about the best way to spend their trip—trying out the pirate ship escape room.
They didn't have to set sail for nautical miles away to have fun; the treasure of a good time was found at the campground as it hosted a Pirate Weekend.
Parked and waiting for brave souls to enter, The Flying Dutchman's Ghost Ship was surrounded by skulls. The figurehead found on the bow of the ship was also the skeletal remains of a mermaid.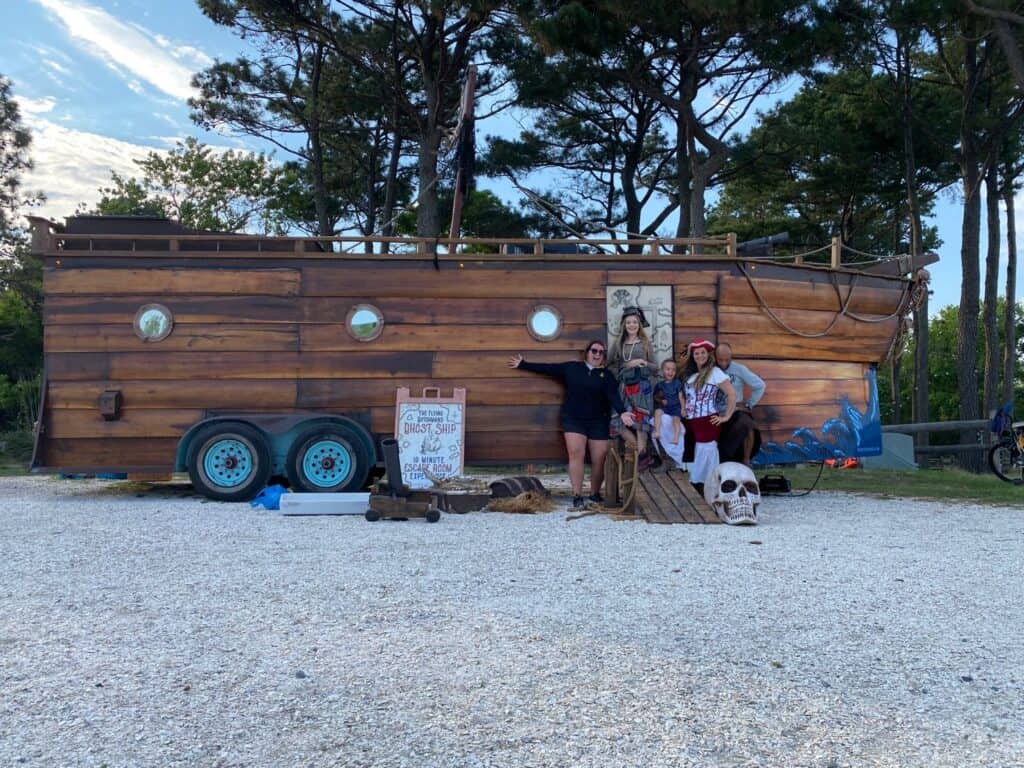 The ship provided a ten-minute thrilling escape room experience for those who dared to take the challenge. It accommodated a crew of six at a time to solve clues and riddles to escape the wrath of sailing eternally.
There were also pirate-themed mini-games such as Aye Spy and the not-so-mini Battle of the Ships.
Chesapeake Bay KOA collaborated with Asheville Plays on bringing the pirate ship escape room to the KOA. Asheville Plays offers mobile escape rooms, game rentals, mobile snack wagons, and more.
"It was an absolute blast working with Arica Haro and her team. So thankful for Resort and Commercial Recreation Association providing us with these vendor connections!" the campground's assistant general manager, Kelsey Lehnerd, wrote in a LinkedIn post.
This month, upcoming weekends at Chesapeake are Father's Day Weekend from June 17-20, Wet and Wild Weekend from June 24-27, as well as a 4th of July Weekend from July 1-5 where families can listen to bands perform, watch an outdoor movie, play glow in the dark volleyball on the beach, and more.
Chesapeake Bay KOA Resort is located in Cape Charles, Virginia. The campground features its own private beach, RV rentals, RV sites, deluxe cabins, and safari tents.
Visit https://koa.com/campgrounds/chesapeake-bay/ to learn more.
Featured image courtesy of Kelsey Lehnerd/Chesapeake Bay KOA Resort.